News
July 2009
Last-Minute Announcement
Ken Macleod will be attending Satellite 2.
Final Details
The convention will take place in the Argyll Suite of the Crowne Plaza Hotel. Enter by the Banqueting Entrance, at the east end of the building, just behind the Armadillo (Clyde Auditorium).
Information on how to reach the hotel, and on parking, is available here. Please note that the Glasgow River Festival is also running this weekend and so the riverfront will be extremely busy. Please allow extra time to reach the convention.
Remember to bring the following with you:
Cash and/or cheques (e.g. for art show purchases). Sorry, but the convention cannot accept credit cards.
Clothes for the lunar Beach Party.
Any items of Apollo Memorabilia (which will be returned after the convention).
The provisional programme for the convention is now available on-line; see here for details.
A summary of Satellite 2's rules and regulations are given here.
June 2009
Con T-Shirts Reminder
Con T-shirts need to be ordered before the end of June. Click here for details.
Hotel Booking Reminder
If anyone still wants to book a room in the Crowne Plaza please remember that the convention rate of £90 is only guaranteed until 4th June 2009. So you need to act quickly.
To book:
Phone 0870 443 1691 (this is the hotel reception).
Ask them to put you through to in-house booking.
Ask for a booking for your desired dates and say it's for Satellite 2.
May 2009
The Crowne Plaza has agreed a further price decrease! Rooms are now £90 (single or double occupancy, including breakfast) per room per night. Remember to quote Satellite 2 when booking and that this price is only guaranteed for bookings made until 28th May 2009.
Scottish space band Arbelos will be playing at the Dead Laika (i.e. Dog!) party on Sunday evening. Visit their website to hear music and pre-order CDs.
The Mission Status Update has been cleared for public viewing and can be downloaded here.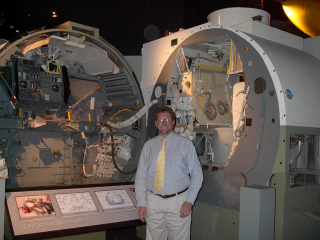 US Apollo historian Frank O'Brien will be speaking at Satellite 2 and bringing over some unique Apollo mission memorabilia to show us. Frank has been involved in preparing some of the world's leading museum exhibits about the Apollo missions including the only remaining Lunar Module Mission Simulator at the Cradle of Aviation Museum in New York.
April 2009
We are please to announce that the Satellite 2 special rate for accommodation in the Crowne Plaza has been reduced to £95 per room per night, B & B, for either single or double occupancy. As before, this price is guaranteed only until 28th May 2009, and applies to those who mention Satellite 2 when booking directly with the hotel.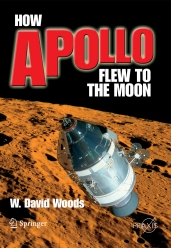 David Woods, BBC Scotland Editor and self confessed 'space-geek', will be giving a talk at Satellite 2 based around his book How Apollo Flew to the Moon (see here for details: http://www.hafttm.com/Main.html). Copies of the book will be on sale at the convention.
A progress report is nearly ready and should be mailed out in the next few days.
March 2009
Iain M. Banks will be reading from his new book Transition, which is scheduled for publication on 3rd September 2009. Hear it first at Satellite 2!
February 2009
Roger<beep> and three of the committee members attended Redemption 09 in Coventry. Satellite 2 was well represented in the programme: Christine give a talk on forensic science in fact and fiction; Michael hosted the latest 'Deface the Music', an SF-based music quiz; Colin (and able helper Simon) ran Mad Elf's 'Finding Uranus' game and Roger supported Dexter the Dinosaur in his (sadly, unsuccessful) bid to become Ruler of the Universe. A great con and great fun had by all!
See Michael's con report on the Satellite 2 LJ.
January 2009
Convention T-shirts are now available to order! See here for details.
November 2008
Roger<beep> and the Satellite 2 rocket were on display at NovaCon38.
October 2008
Roger<beep> attended NewCon 4. Carolyn's Con Report shows they had a good time. Some photos of Roger's At-Con adventures are here.
September 2008
Members of the Mission Control Team are planning to be at NewCon 4 (Northampton, 11-12 October 2008), Novacon 38 (Walsall, 14-16 November 2008), Redemption (Coventry, 20-22 February 2009) and Eastercon LX (Bradford, 10-13 April 2009). Please come and visit our convention tables for latest news, free sweets and to see our superb replica Saturn V. Roger<beep> may also put in an appearance. Oh yes… and don't forget to join if you haven't already!
June 2008
We've just passed 50 members… not bad more than a year in advance!
March 2008
We exist.